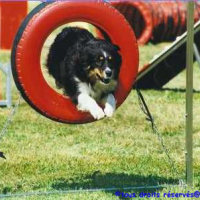 Agility Dream Team
La chaîne d'agility et de sports canins
109 videos
OEC 2013 - Anja Christiansen & Feahunden's Queeny Las - HTM EUROPEAN CHAMPION
507 vues
Ajoutée Jul 17, 2014
Championnat d'Europe Obérythmée - OEC 2013 Dogdance - Final HTM

(Sorry for the weird soundtrack - it seems something went wrong when I saved it, but I can't change it now - so hope you enjoy anyway !)

Anja Christiansen & Feahunden's Queeny Las (Border Collie) - Denmark
CHAMPIONNE D'EUROPE HTM - EUROPEAN CHAMPION HTM - 55.13/60


Please note an official DVD with high definition videos will be for sale, visit http://oec2013.wordpress.com
Videos here are low definition, so don't hesitate to buy the DVD.
Please note I am not from the organization, so just contact them via the website for further information.