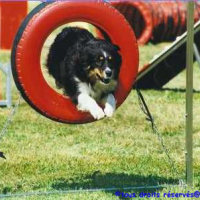 Agility Dream Team
La chaîne d'agility et de sports canins
109 videos
Maggie the staffie getting a beauty treatment - by Lea Juhl Knudsen
379 vues
Ajoutée Jul 18, 2014
This is Maggie, owned by Lea Juhl Knudsen of Denmark

Lea said (Via Bing translation)

"..., I was just about to cry. We were going to ring training, so I had to shut her off to a "small pond" where she happily jumped in, and swept most of! And so in the car and away ... But since it was too late to stop her escape from mud hole, I just had to laugh and shoot:) (Translated by Bing)"

"..., then she must good games with Mille-you never know what she can find to teach her;-) But of course, we would like to be seen soon! (Translated by Bing)"

"I don't think she could say anything, both mouth, nose and eyes (and everything else!) was covered in mud! Yes, I had Luckily her cage with, so I've just washed tæpperne today;) (Translated by Bing)"